SUMMER MASS SCHEDULE

Weekday Masses from August 7 to 30:
Wednesdays: 7:00 pm;
Thursdays and Fridays: 8:30 am.
Only the doors at 71 Roosevelt will be opened.
Sunday Mass schedule:
Saturdays, 5 pm & Sundays, 10 am throughout the summer.
All entrances will be opened.
---
SUMMER OFFICE HOURS
August 1 to 31: Office closed
---
REGISTRATION for Children's Faith Education (CFE) program begins.  Parish children entering Grade 1 this year through Grade 6 should be enrolled in our weekly classes.  Classes are held Tuesdays at 4:15 pm beginning late September.  Please return the completed form by July 31 to ensure that your child will receive the materials required in time for the first class.  For more information, For more information, please refer to the 2019 Registration form. Please contact the parish office with your questions. Beginning this weekend, you can pick up a registration form at the main doors of the church or fill the form out online on the Children's Faith Education page on our website.  The fee is $100 per child, maximum $200 per family – no one will refused due to a lack of funds.  RETURNING STUDENTS: Come see Mary during office hours to review your registration form from last year and make necessary changes.  No need to fill in a few form! The $100 fee is required.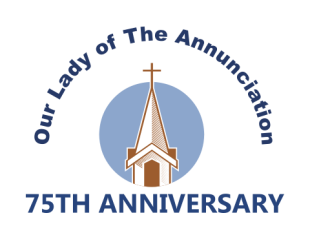 ANNUNCIATION PARISH 75th anniversary:  2020 is the 75th Anniversary of Our Lady of The Annunciation. In honor of this blessed year of our parish, an Anniversary Committee is being formed to plan and implement activities to commemorate and celebrate our Platinum Jubilee. John Issa and Lori-Ann Zemanovich (two of your OLAP Wardens) will be co-chairing the committee made up of Annunciation parishioners. Please sign up your interest to become members of the committee.  Send an email directly to Lori-Ann at loriannzemanovich@hotmail.com.  We need your help to make the celebrations a success!