Communion Visits to the Sick and Homebound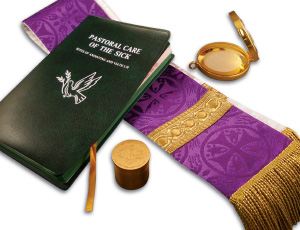 For the sick and elderly, getting to Mass regularly can be very difficult, especially during the winter months. Parishioners in this situation are encouraged to call the parish office office so that we can arrange for Communion visits, either regularly or occasionally.
---
Anointing of the Sick
For those who are more seriously ill, whether chronic or acute, the Sacrament of Anointing of the Sick may be appropriate.
The Anointing of the Sick "is not a sacrament for those only who are at the point of death. Hence, as soon as anyone of the faithful begins to be in danger of death from sickness or old age, the fitting time for him to receive this sacrament has certainly already arrived." CCC 1514
Please call if you or a loved one would benefit from this Sacrament and we will arrange a visit as soon as possible.